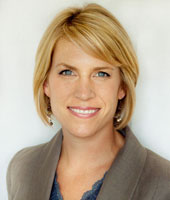 Dr.Cari Lyle was born and raised in Iowa. She ran track and cross country at Wartburg College in Iowa, where she graduated Magna Cum Laude. She completed medical school at the University of Iowa in 2002 and trained at the University of Tennessee for her ophthalmology residency. Dr. Lyle then completed a two-year fellowship in Ophthalmic Plastic and Reconstructive Surgery at Vanderbilt University. She joined Pittsburgh Oculoplastic Associates in 2008.

Dr. Lyle has authored textbook chapters and journal publications on reconstructive surgery and orbital tumors and has been selected to present her research at national oculoplastics meetings. In addition to seeing patients in the Oakland, Fox Chapel, Wexford and Meadville offices, she also serves as Clinical Assistant Professor of Ophthalmology at UPMC where she lectures and mentors residents and fellows. She has an interest in reconstructing facial defects after skin cancers as well as treating tearing disorders and vision problems related to eyelid disorders.

Dr. Lyle is board certified in ophthalmology and is a member of the American Society of Ophthalmic Plastic and Reconstructive Surgery, American Academy of Ophthalmology, American Medical Association and Pittsburgh Ophthalmology Society.

Dr. Lyle lives with her husband, Nick, and their two children in the Squirrel Hill area.